Visit Bicester Village Shopping Outlet in Comfort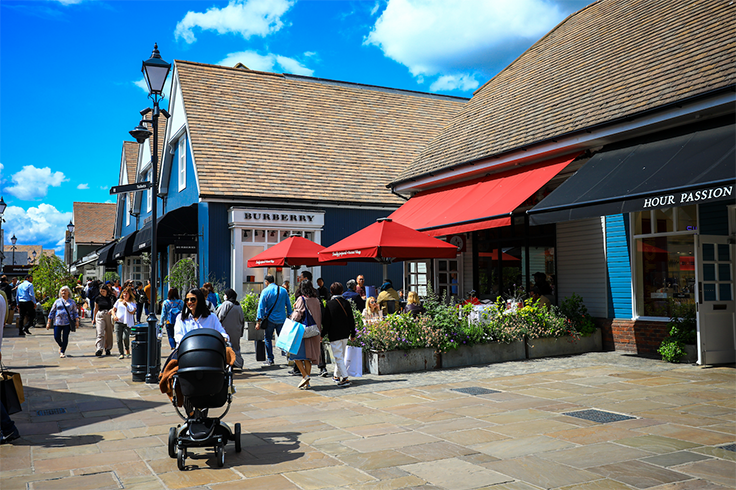 A visit to the United Kingdom is incomplete without an exhilarating shopping experience. You may have experienced shopping at mega malls and multistorey shopping malls. However, Bicester Village Shopping Outlets offer an experience like never before. Situated one hour's drive away from London and 15 minutes from Oxford, Bicester Village Shopping Outlets is a must-visit for shopping enthusiasts. Euro Chauffeurs London can help you discover a world of luxury, style, and unbeatable savings at Bicester Village, the ultimate shopping destination for discerning travellers like you. Nestled in the heart of picturesque Oxfordshire, England, this open-air luxury shopping centre offers an unparalleled shopping experience that delights and captivates visitors from all corners of the globe.
Indulge in a retail haven where international fashion meets exceptional value. With over 160 prestigious brands, including renowned fashion houses, coveted designer labels, and iconic British names, Bicester Village is the ultimate playground for fashion enthusiasts seeking the latest trends and timeless classics. Immerse yourself in a shopping paradise where every aisle tells a story of craftsmanship and impeccable style.
Prepare to be swept away by the sheer elegance and charm of Bicester Village. Where beautifully designed boutiques evoke a sense of luxury and sophistication, creating an ambience that is simply irresistible. Take leisurely strolls along the quaint boulevards, admiring the stunning architecture and savouring the enchanting atmosphere that exudes refinement and grace.
But not just the world-class brands and exquisite surroundings make Bicester Village an extraordinary destination. It's the incredible savings that await you at every turn. Enjoy year-round discounts of up to 60% off the recommended retail price, allowing you to indulge in your favourite luxury brands without breaking the bank. Our exclusive offers for international visitors make the experience even more rewarding, ensuring you find the perfect pieces to enhance your personal style.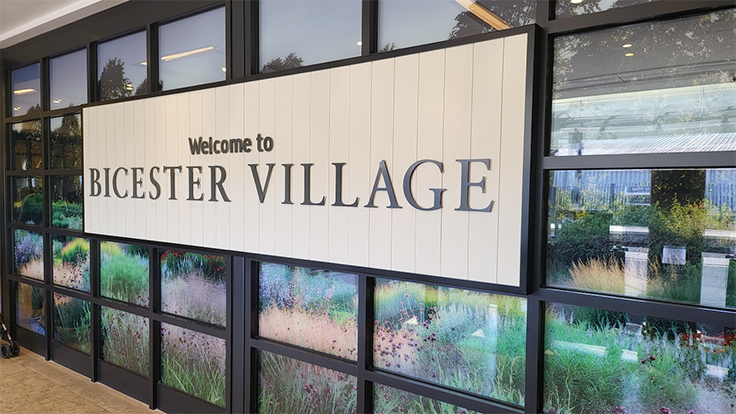 Chanel:
Indulge in the epitome of sophistication and elegance at the Chanel Outlet. Discover a world where timeless style meets unbeatable value, offering you the opportunity to own iconic Chanel pieces at exceptional prices. Step into the exclusive boutique and immerse yourself in the allure of Chanel. With a carefully curated selection of fashion, accessories, fragrances, and more, our outlet brings you the coveted designs of this renowned luxury brand, all within your reach. Every item at the Chanel Outlet is crafted with meticulous attention to detail, showcasing the impeccable craftsmanship and enduring quality that has made Chanel a global fashion icon. From the classic Chanel quilted handbags to the iconic little black dress, each piece reflects the brand's rich heritage and signature style.
Gucci:
Step into the exclusive outlet and unlock a treasure trove of coveted Gucci collections. From glamorous handbags and accessories to sophisticated clothing and footwear, Gucci offers a wide selection of discounted luxury items that allow you to express your unique style without compromise.
Browse through an extensive range of Gucci products, including stunning handbags, chic accessories, sophisticated clothing, exquisite footwear, and more. Discover iconic designs that have made Gucci a symbol of fashion excellence.
Prada:
Known for its cutting-edge designs and uncompromising quality, Prada is a giant when it comes to the upmarket shopping experience. Parada offers a captivating collection of high-fashion apparel, accessories, and footwear. Delight in the fusion of innovation and style as you peruse their boutique for the latest trends and must-have items.
Burberry:
Immerse yourself in the iconic British heritage and craftsmanship of Burberry. Burberry has been the premium choice of the leading British celebrities and have enjoyed an excellent reputation. Browse their selection of luxurious trench coats, exquisite scarves, and accessories that exude timeless elegance. This celebrated brand offers a perfect blend of tradition and contemporary style.
Saint Laurent:
Step into the world of timeless elegance and effortlessly cool with Saint Laurent. The iconic fashion house has been setting the standard for luxury and style since its inception. With a fusion of classic sophistication and edgy modernity, we invite you to embrace your inner icon and make a bold statement.
At Saint Laurent, fashion is an art form, and their collections reflect that philosophy. From stunning evening gowns to sleek tailored suits, their designs exude confidence and allure. Each piece is meticulously crafted with the finest materials and attention to detail, ensuring that you look and feel exceptional in every moment.
Versace:
Versace is your exclusive gateway to the world of luxury fashion at unbelievable discounts. Step into a realm where opulence meets affordability, where the iconic Italian craftsmanship of Versace is now within your reach. Prepare to be captivated by the allure of our remarkable selection and immerse yourself in a world of sartorial splendour.
Here, you'll find a treasure trove of meticulously designed garments, accessories, and footwear that embody the distinctive Versace aesthetic. Every piece reflects the brand's unrivalled commitment to impeccable craftsmanship, cutting-edge designs, and attention to detail that is synonymous with Versace's illustrious heritage.
Jimmy Choo:
Elevate your shoe game with Jimmy Choo's iconic footwear. Renowned for their elegance and impeccable craftsmanship, the brand offers a wide range of heels, flats, and boots that are both fashion-forward and comfortable. Complete your ensemble with a touch of glamour from their selection of luxury handbags.
Euro Chauffeurs London takes you on a day trip to Bicester Village Shopping Outlet which offers an unparalleled luxury shopping experience in the heart of the English countryside. Our luxury vehicles are from a fleet of flagship range by top auto manufacturers such as Mercedes, BMW, Range Rover and Bentley. Our chauffeurs are employed locally and know the area like the back of their hands. They can navigate you through busy streets and show you the places no one else knows about. They can provide valuable and interesting facts about the places you are visiting and would deliver you safe and sound back to your destination.
With Euro Chauffeurs London, Immerse yourself in the world of renowned fashion brands, where sophistication meets affordability. Indulge in the timeless elegance of Chanel, Gucci, Prada, Burberry, Saint Laurent, Versace, and Jimmy Choo, among many other prestigious labels. With exceptional discounts on offer, this haven of style and opulence is a must-visit destination for discerning fashion enthusiasts. Experience the pleasure of shopping in a picturesque setting, surrounded by quaint boutiques and delightful dining options. Elevate your style and embrace the allure of luxury at Bicester Village, where dreams become reality and indulgence knows no bounds. Book your chauffeured vehicle service now, and embark on a remarkable journey into the world of luxury fashion.