London Full Day Tour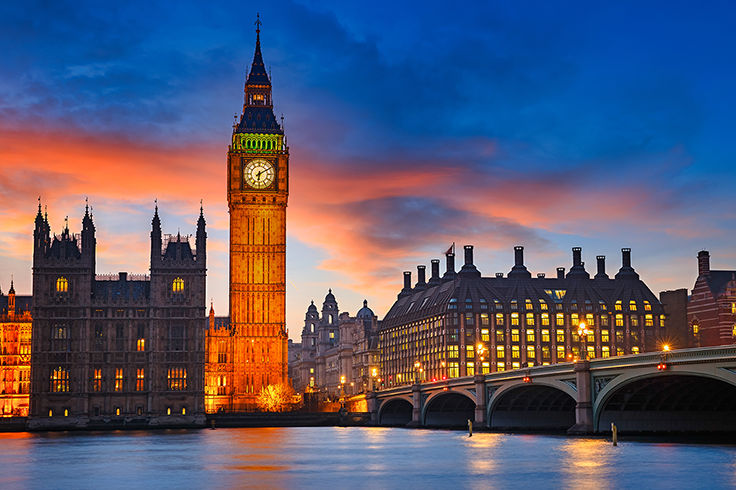 London is a metropolis with rich history, breathtaking architecture and captivating landscapes. If you are looking to explore this majestic place then you better let the experts take charge. Fortunately, Euro Chauffeurs London lets you experience the ultimate luxury and explore the iconic city of London like never before with their London Full Day Tour. Sit back, relax, and let our expert chauffeurs take you on an unforgettable journey through the heart of this magnificent city. Discover the rich history, vibrant culture, and famous landmarks that make London a truly remarkable destination.
Our fleet of top-of-the-line vehicles is designed to provide a lavish and sophisticated experience, ensuring that every moment of your tour is as memorable as the next. With plush leather seats, spacious interiors, and state-of-the-art amenities, our cabs offer the perfect blend of elegance and convenience. Your adventure begins as you embark on a personalized itinerary crafted to suit your preferences and interests. Whether you're a history buff, an art enthusiast, or a food lover, our knowledgeable drivers will curate a tour that caters to your specific tastes. From world-famous attractions like the Tower of London and Buckingham Palace to hidden gems tucked away in charming neighbourhoods, you'll have the opportunity to see it all.
At every step of the journey, our commitment to excellence shines through. From our impeccable attention to detail to our unparalleled customer service, we strive to exceed your expectations and ensure your day in London is nothing short of extraordinary.
With our experience and demand from our customers, we have finalized a list of the most visited and most in-demand places that we help you discover. In a package carefully curated for your visual pleasure, we offer the following places that you can visit with us.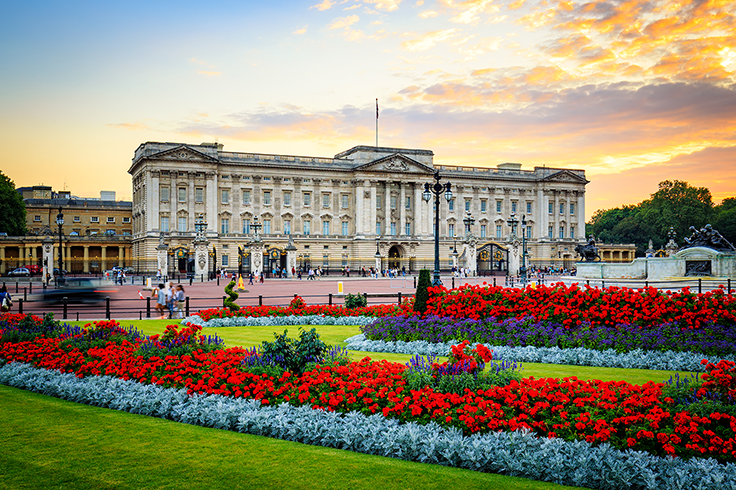 Begin your day by visiting the iconic Buckingham Palace, the official residence of the British monarch. Marvel at the grandeur of the palace, witness the Changing of the Guard ceremony (if scheduled), and explore the beautiful surrounding gardens.
Historical significance of Buckingham Palace
Buckingham Palace, built in 1703, has served as the official residence of the British monarch since Queen Victoria's reign. It is not only a symbol of the British monarchy but also an architectural marvel. The palace has witnessed numerous historic events and has become an iconic landmark in London. The Changing of the Guard ceremony, held outside the palace, is a popular attraction that showcases the tradition and pomp of the British royal household.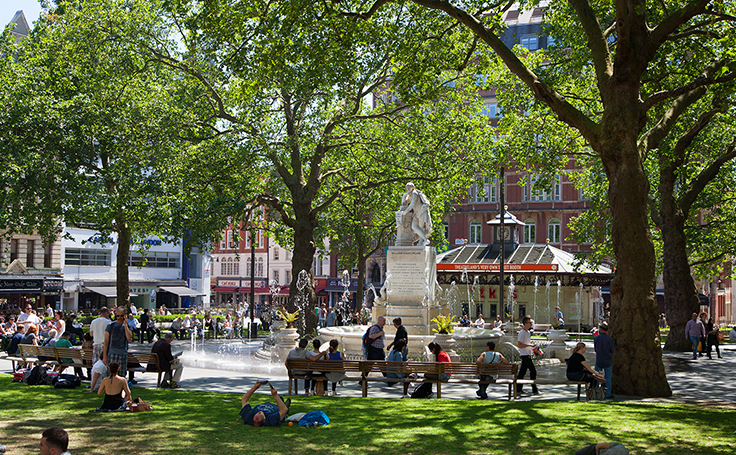 After lunch, head to Leicester Square, the entertainment hub of London. Enjoy the vibrant atmosphere, visit theatres, and immerse yourself in the bustling energy of the area.
The Most Famous Square in London
Leicester Square, located in the West End of London, has a rich entertainment history dating back to the 17th century. It is known for its vibrant atmosphere, theatres, cinemas, and entertainment venues. The square has hosted numerous film premieres, making it a popular destination for movie enthusiasts. Leicester Square encapsulates the dynamic and lively spirit of London's entertainment industry.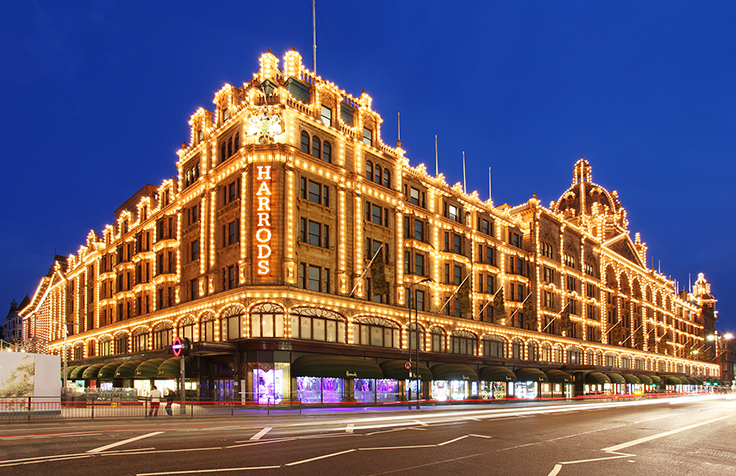 Next, head to Knightsbridge and visit Harrods Estates, a renowned luxury department store that has hosted British Royals to Hollywood elites. Explore the exquisite range of designer goods, enjoy a shopping spree, or simply indulge in the opulent atmosphere.
Billionaires Playground for Shopping
Harrods Estates, located in the affluent area of Knightsbridge, is a world-renowned luxury department store that dates back to 1834. It offers an unparalleled shopping experience, with its opulent interiors and an extensive collection of high-end fashion, jewellery, home decor, and gourmet food. Harrods Estates has become a symbol of luxury and sophistication, attracting discerning shoppers from around the globe.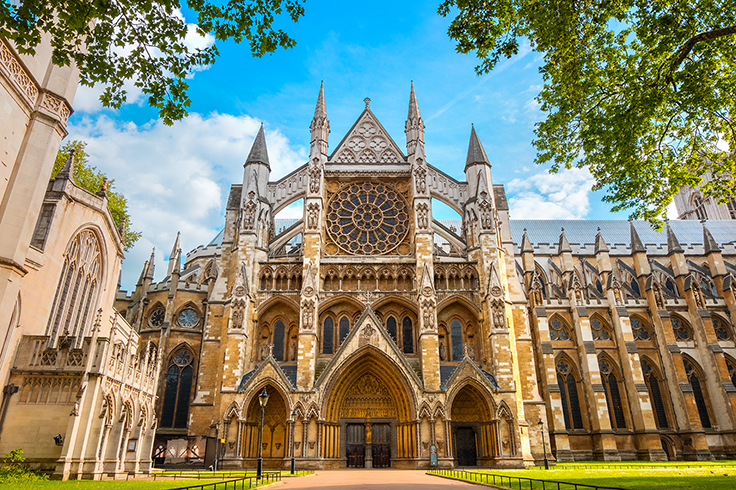 Make your way to Westminster Abbey, a historic Gothic church that has witnessed countless royal coronations, weddings, and funerals. Take a guided tour inside and marvel at the stunning architecture and the final resting places of many notable figures.
A Significant Site to Visit
With a history spanning over a thousand years, Westminster Abbey is one of the most significant religious and historical sites in London. It has hosted numerous royal coronations, including that of Queen Elizabeth II, as well as weddings and funerals of monarchs and notable figures. The stunning Gothic architecture and intricate details inside the abbey, along with the graves of poets, scientists, and politicians, make it a must-visit destination for history enthusiasts.
From Westminster Abbey, you'll catch sight of the iconic Big Ben, one of London's most recognizable landmarks. Admire the majestic clock tower and learn about its fascinating history.
The Most Iconic Symbol of London
Big Ben, officially known as the Elizabeth Tower, is an iconic symbol of London and its rich history. Completed in 1859, the clock tower stands at the north end of the Palace of Westminster. It has become synonymous with the British Parliament and is one of the world's most famous clock towers. Big Ben's chimes are instantly recognizable and have marked significant moments in British history for over a century.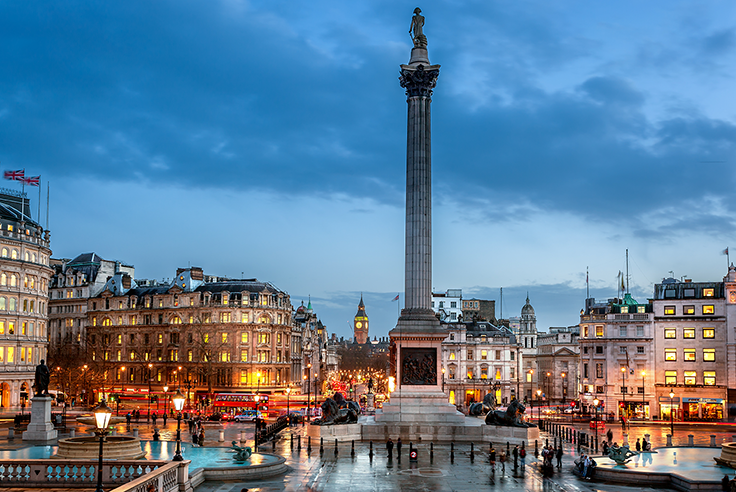 Head to Trafalgar Square, a vibrant public square surrounded by significant cultural institutions. Take in the sights, such as Nelson's Column and the famous lion statues, and soak up the lively atmosphere.
The Historic Public Square
Trafalgar Square, located in the heart of London, is a historic public square known for its iconic landmarks and vibrant atmosphere. The square commemorates the Battle of Trafalgar, a naval victory of the British against the French and Spanish fleets in 1805. It is home to Nelson's Column, a monument honoring Admiral Lord Nelson, and features beautiful fountains and statues. Trafalgar Square serves as a gathering place for celebrations, protests, and cultural events.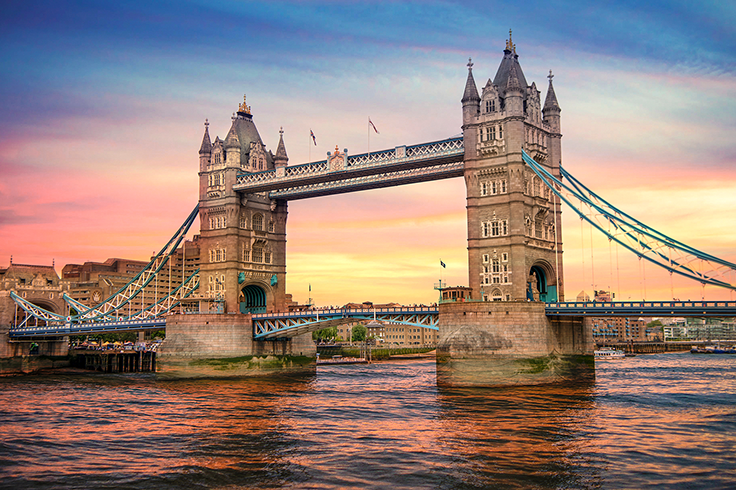 Cross the iconic London Bridge, which spans the River Thames. Marvel at the modern architecture and admire the picturesque views of the river and the cityscape.
The Famous Bridge
London Bridge has a rich history that dates back to Roman times. The current bridge, completed in 1973, is a modern iteration of the various bridges that have spanned the River Thames in this location. It has played a significant role in London's development and has witnessed various historical events. London Bridge offers stunning views of the city and serves as a symbol of the capital's resilience and connectivity.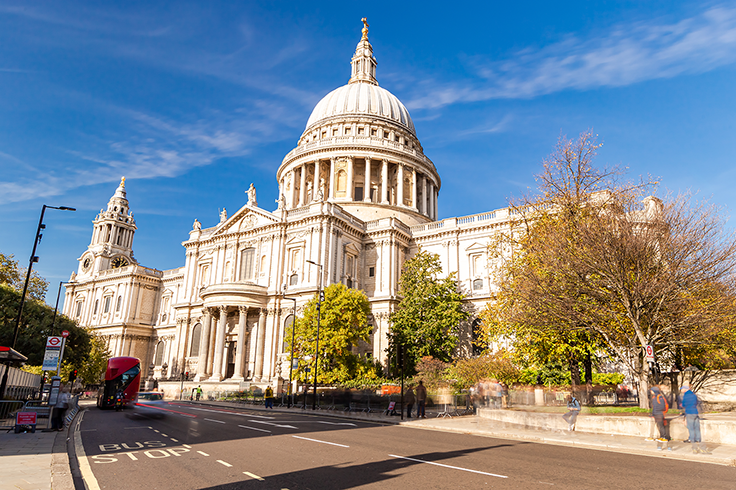 Visit the magnificent St. Paul's Cathedral, an architectural masterpiece and a symbol of London. Explore the stunning interior, climb to the Whispering Gallery for panoramic views, and learn about its rich history.
Gothic Architectural Marvel
St. Paul's Cathedral, designed by Sir Christopher Wren, is an architectural masterpiece and an enduring symbol of London. Completed in 1708, it has hosted numerous important events, including royal weddings and state funerals. The cathedral's dome is one of the largest in the world and provides a breathtaking panoramic view of London from the top. St. Paul's Cathedral represents the resilience and strength of the city, having survived the Blitz during World War II.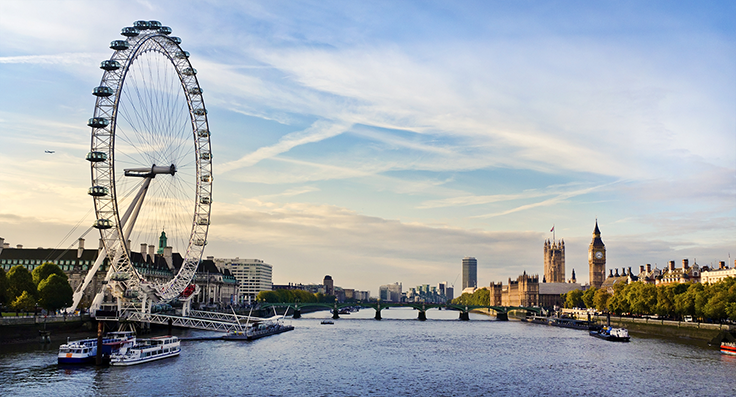 Experience breath-taking views of London's skyline from the London Eye, a giant Ferris wheel located on the South Bank of the River Thames. Enjoy a private capsule and savour the panoramic vistas of the city.
A Giant Ferris Wheel Showing Stunning Views
The London Eye, inaugurated in 2000, is a modern marvel and an iconic feature of the city's skyline. It is a giant Ferris wheel located on the South Bank of the River Thames, offering breathtaking views of London from its glass capsules. The London Eye has become a symbol of modernity and innovation, attracting millions of visitors who come to experience panoramic views of landmarks such as St. Paul's Cathedral, the Shard, and the Houses of Parliament.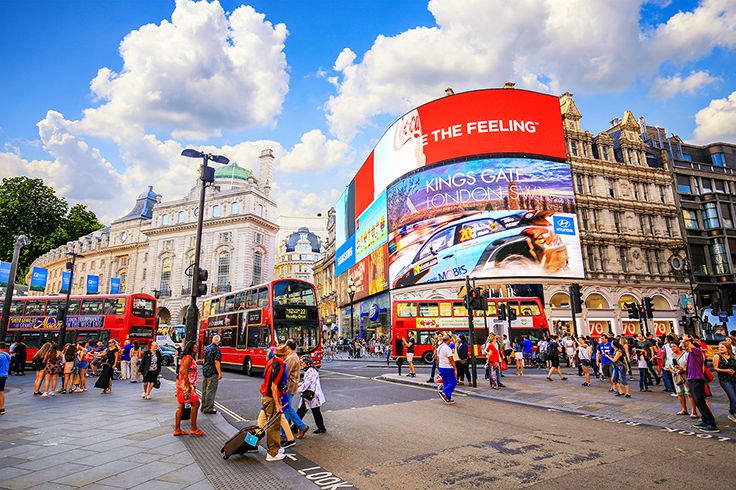 Conclude your tour by visiting Piccadilly Circus, another famous public square known for its dazzling lights and vibrant billboards. Take in the bustling atmosphere and snap some memorable photos.
Take a Stroll in the Neon Lights
Piccadilly Circus is a bustling public space known for its dazzling neon signs and bustling crowds. It has been a major traffic intersection since the early 19th century and is surrounded by theatres, shops, and restaurants. Piccadilly Circus is often referred to as the "Times Square of London" and represents the vibrant energy and commercial hub of the city. It is a popular meeting point for locals and tourists alike, offering a taste of London's lively atmosphere.
Back to Home:
Finally, your luxury cab will take you back to your desired location, marking the end of your full-day tour of London's most iconic landmarks.
Our luxury vehicles are never older than 3 years and we employ local chauffeurs who know the area like the back of their hands. They can show you the hidden gems no one else knows about. We can arrange any type or sort of vehicle that would suit your requirements. From top-of-the-line luxury cars to party vans to corporate vehicles, we have it all. You just need to make an appointment and we take care of the rest.
Please note that this itinerary can be customized based on your preferences and time constraints. The timings for each destination may vary depending on traffic and the time you spend at each location.